Long time no blog! Sorry for the radio silence, I've been pretty busy offline and also with preparing for events so it's been a busy couple of months!
First off, this morning I discovered my blog has actually won an award! Feedspot did a "Top 75 Cosplay Websites & Blogs" list and I came in at 64! I didn't even realise blog awards were a thing, and I use this blog mostly to document events and my own costumes so it's not particularly useful all of the time.. so this is pretty neat! Thank you to everyone who visits!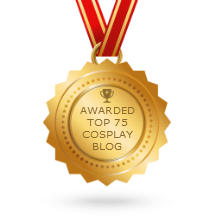 Speaking of events, this weekend was my first of 2017: Rai-Con, Scotland's Anime & Manga Convention! I was invited as a guest and as a judge to the event and after having such a great time last time I visited I was more than happy to come back. The event is so friendly and lively, it's a great atmosphere!
I wore Prince Sakura from Cardcaptor Sakura for the event – I did have another costume in the works but I didn't have enough time to finish it before leaving. Booo! It was still a blast though, and I've not worn this costume much since C4 happened so it was nice to bring it out for another event!
It was an insanely busy day as we had a lot of entries to the competition – two rounds of judging and we ran over time a little bit! My judging partner in crime was Sketch McDraw, who has previously guested at Rai-Con and was awesome to hang out with during the day while we worked our way through the entries.
Photo by PhotoGoku
Because there were so many entries it was difficult to choose winners, because so many were so good!! There was an amazing level of craftsmanship and so many different techniques on show, it was a real toughie. Everyone did an incredible job. On that note, if anyone who did enter wants any feedback, please do feel free to contact me and I'll be happy to go over what we thought.
Earlier in the day I hosted a talk, Preparing Costumes & Make-Up! Admittedly because of the busy morning I went back over some of the subjects in the talk a few times and babbled, but I really hope it was helpful for people in the audience listening.
The next Rai-Con is on October 28th – hope to see you all again soon!